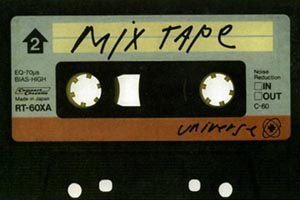 I have always been a junkie for some good music. I have been since I was a kid. There is nothing in my life that that I have spent more time thinking about and exposing myself to. The way that you discover a band, or a particular song, can do a lot for how you feel about it. For instance: When I was 14 my friend Christy Miles scooped me up and brought me to one of my first punk shows. I hadn't heard of Samiam before but I was stoked like they were my favorite band. I bought a t-shirt and threw it on stage in between songs and told Jason to sign it. He took a sharpie and wrote "BOB" – with quotes – showed the crowd and threw it back at me. Ever since then, the album Soar has been one of the longest records I've kept close. Unfortunately every album that they released after that was horseshit and they stopped playing their old songs at shows.
The point is that the way I discover music is part of what makes that music important to me. When you're sharing music with your friends, if you're anything like me, it's critically important how that music is presented. Weaving together the perfect mix that has meaning, mood and a great flow. There are thousands of ways of doing this however most of the mixtapes that old girlfriends' ex-boyfriends made for them, that I've heard, totally miss the boat.
There are some pretty specific times to make a mixtape and each time calls for a different technique. Admittedly, most of them have to do with girls, but it isn't the case all the time. These are examples of actual mixes I made for actual people over the past seven or so years. Each of these playlists were made for their own purposes, which I will explain.
The names have not been changed to punish the guilty.
Some of the mixes will be incomplete. Some songs listed will be left out because I might not have the proper rights to add them. That's cool though because these mixes were made because of individuals, and they belong to them. If you want to hear all of these songs…happy hunting. Every one of these songs is my favorite song ever, in addition to all of my other favorite songs. If you don't like it, talk shit. My music is way better then yours.
I put these playlists on Spotify, so you're going to need to get that to play them.
Mix For The Girl You're Into
This is for when there is a girl you're kicking it with and you what to throw her a hint. This is the first, and most widely used mixtape scenario. You want to be frank without coming on too strong, so you start with something like Devo's Girl U Want. Follow that with something heartwarming and energetic, with maybe a touch of sadness. At this point it's easy to get wrapped up in the sappy stuff, and you definitely don't want to freak her out, so put on some nonsense that could be construed as suggestive; like Hang Out by Thurston Moore. After that you want to really drive the message home. You have to be careful if you mellow out the mood at the end, because you'll kill it if you tone it down too quickly.
Mix for the girl you're into
Girl U Want – DEVO
Jinx Removing – Jawbreaker
Head On – Pixies
I Love Your Brain – Frank Black and the Catholics
Hang Out – Thurston Moore
I Only Want You – Eagles Of Death Metal
It Takes Time – Muck and the Mires
It's Hard to Turn Me On – Quasi
If It Wasn't For You – Handsome Boy Modeling School
Hot Wire My Heart – Sonic Youth
I Can't Stand It – The Velvet Underground
I Want You Around – Ramones
I Am Pentagon – Make-Up
Valentine – Old 97's
Ambulance – TV on the Radio
The Long Road – Tiger Army
Forget the Flowers – Wilco
Into Your Eyes – Lucero
Say Yes – Elliott Smith

Mix For The Girl Who Has Great Taste In Other Music
Have you ever met someone who knows as much, and is as passionate about rock and roll as you are but listens to like 90% classic rock bands? In this case you want to put together a mix of your oldest favorites, less old favorites and some out-in-left-field joints. The point of this one is to introduce her to bands she may or may not have heard of, but probably doesn't listen to. This is a tricky one to pull off because of all of the different sounds you need to put together and still impress a rock chick. You have to cover your favorite parts of the spectrum, while keeping in mind the kind of music she likes. You have to mirror her taste but be unique enough so she says something like "Who sings that Boogie on the Beach song? I've seen that in a movie."
Mix for the girl who has a great taste in other music
Teen Age Riot – Sonic Youth
Iehiro's Dilemna – Goblin Cock
Arctic Snow – Burning Brides
Patti Smith Math Scratch – Thurston Moore
Guero Canelo – Calexico
Never Too Late – Slim Cessna's Auto Club
Suspect Device – Stiff Little Fingers
Trying Too Hard – Crimpshrine
Boogie on the Beach – Red Elvises
Baby Blue Sedan – Modest Mouse
Above the Clouds – Gangstarr
Devil in Jersey City – Coheed and Cambria
Yoshimi Battles The Pink Robots Pt. 1 – The Flaming Lips
Cold Blows The Wind – Ween
Overkill – Ministry
I'm Waiting for the Man – The Velvet Underground
Öngyilkos Vasárnap – Venetian Snares
Pitseleh – Elliott Smith
Desastre Natural – Tomahawk
Stormy Weather – Pixies
Drinking Songs for the Boys
When people say they hate a certain type of music it usually means they've only heard the most shallow of the genre. They probably haven't heard a lot of the bands that don't have a wide circulation. Usually they say Rap and Country. This is a country mix so if you're going to have a closed mind about all that then you can skip it. I made this one for my very good friend Whiskey Mike, so we have it in the truck when we go fishing. He's Iowa farm raised and we would listen to a bunch of Willie Nelson,  David Allen Coe, Conway Twitty and all that. I brought along a Lucero CD one time and he started to bug me about all of the Americana I had. This is what I came up with.
Drinking Songs for the Boys
Pop Country Really Sucks – Hank Williams III
Hangover Daze – Shelby Cobra
No Depression – Uncle Tupelo
High Noon in Killville – Angry Johnny And The Killbillies
Tomorrow Morning – Drag The River
All Sewn Up – Lucero
The Girl With the Golden Hair – The Rio Grandiose
Barrel Of My Gun – Slim Cessna's Auto Club
Piss Up A Rope – Ween
Drunker Than Satan – Horatio Lee Jenkins
Crawlspace – Calexico
Medicine – Drag The River
Forget the Flowers – Wilco
Whiskey – Angry Johnny And The Killbillies
Guns Bitches Brawls & Bottles – G.G. Allin
The Bottle Let Me Down – Merle Haggard
I Gotta Get Drunk (with Merle Haggard & George Jones) – Willie Nelson
Redwood – Calexico
Last Song About Satan – Slim Cessna's Auto Club
My Best Girl – Lucero
Mix for Your Girlfriend (or wife)
One of the best mixes you can make is a mix for your girlfriend. You spend a ton of time with her, and you're always monopolizing the stereo. She's the best girl ever, so she doesn't mind. You want to always bring your best jams because, face it…you're going to be pissed if she wants to turn it of…or worse, put in that same shitty Morcheeba CD that she loves to listen to over and over. This is an easy one to put together because you've been listening to these albums with her for months. You know your favorites, her favorites and you know how to put them together. This one is up-beat, smart and just a little bit sentimental…because that's how she makes you feel.
Mix for Your Girlfriend
Acceptable In The 80's – Calvin Harris
Because You're Young – Cock Sparrer
Hero – Sixer
Other Day – Free Fall
Tell Me A Story – Samiam
Jump In The Fire – The Night Marchers
Stukas Over Disneyland – Dickies
Race for the Prize – The Flaming Lips
Twist And Crawl – Death In Vegas
Visit Colnel – Thee Oh Sees
Love in a Trashcan – The Raveonettes
Tomorrow World – Squarepusher
Rewind – Cylob
Cahlottel Mittnacht – Devotchka
Loved Despite of Great Faults – Blonde Redhead
Lilac Wine – Jeff Buckley
Girl – Built to Spill
Dog With Sharper Teeth – Daisy Chainsaw
The Holiday Song – Frank Black Francis
Mind Contorted – Daniel Johnston
Poor Little Raccoon – Angry Johnny And The Killbillies
Coolest Little Monster – Electric Frankenstein
If you recognize one of these mixes as one I gave you one time – but you don't recognize the story that goes with it – it's because I gave you a copy of a mix I made for someone else…harsh.
Please let me know what you think of this little guide and I would be stoked if you added your best playlists to it too.